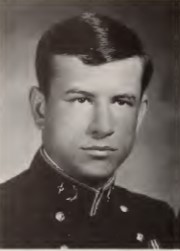 Lawrence Stephen Derrig, of Brookfield, CT, beloved husband of LuAnn (Aloe) Derrig, died on Sunday, January 3rd at his home. He was born in Chicago on April 9, 1948, son of the late John M. and Gwendolyn (Young) Derrig. He was a graduate of St. Francis High School in Wheaton, IL, class of 1966.
After high school Larry received his BS in Mechanical Engineering from the United States Naval Academy Annapolis, and later his MBA from Pepperdine University.
Larry was a Veteran of the Vietnam War, proudly serving with the United States Marine Corp as a Captain while stationed in Oahu, HI. After his honorable discharge, he held managerial positions with Proctor & Gamble, Avon and PepsiCo. He most recently served as the Vice President and General Manager for Flexbar Mediflex in Islandia, NY. His hobbies included a lifetime love of golf, and more recently, riding his Harley Davidson. Most importantly, Larry was a devoted husband and father. He adored his sons and grandson. His greatest wish was for them to be happy and healthy.
In addition to his cherished wife of 31 years, LuAnn, he will be sadly missed by his two sons, Sean Derrig and his wife, Lisa of Cincinnati, OH; and Ryan Derrig of Brookfield, CT; and his two grandsons, Patrick and Emmett Derrig. He is also survived by his brothers, James and Jack Derrig.
A Mass of Christian Burial will be celebrated on Friday, January 8th at 10:30am at St. Joseph Church, Brookfield. Burial will follow in Central Cemetery. There are no calling hours.
Memorial contributions in his memory may be made to the Wounded Warrior Project.
Updated: September 11, 2018
Curator: Ed Moore