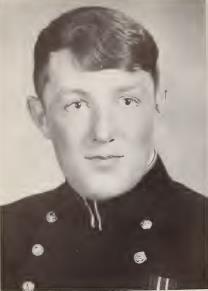 Martin Edward Doyle, Jr., age 50 of Poway, CA died on 22 October 1999 following a series of illnesses. A member of the 11th Company, Marty was born on 10 March 1949 in County Cork, Ireland. He grew up in Sudbury, MA and entered USNA as one of the youngest members of the class. Marty always pulled his grades out at the last possible minute, something he had to do on more than one occasion. His jovial personality and positive attitude always sparked morale for the Company. He participated in intramural sports, including soccer and fieldball, though his true love was golf. He was also fond of hockey and used to kid about coming to Navy on a hockey scholarship.
Upon graduation, Marty served until 1985 in surface line, with tours on the USS Hartley (DE-1029), USS Richard E. Krauss (DD-849), USS Hollister (DD-788), USS Saint Louis (LKA-116), staff on Phibron 1 and staff of FltCorGru. He attended the Naval Postgraduate School and received his MBA in 1981. He was also an officer program recruiter in New York City. After leaving the Navy, Marty became an agent with Equitable Life Assurance Society and specialized in Employee Benefit Programs. He was a Certified Financial Planner, past president of the Rotary Club of Poway and active in the Boy Scouts of America and other youth activities.
Marty is survived by his wife, Marcia Doyle; a daughter, Meredith Doyle of Poway; sons, Ted and Mark Doyle, both of Poway; a mother Josephine Doyle of Sudbury, MA; and sisters Rosemary Gecan of St. Petersburg, FL and Elaine McGrath of Sudbury. Funeral services were conducted at St. Michael's Catholic Church in Poway. Marty valued his religion and family above everything. Despite his physical difficulties, he still kept that perspective. He will be remembered as a special friend to many of us.
Updated: October 30, 2018
Curator: Ed Moore