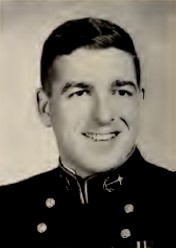 Marvin Joseph Hamm, Jr. passed away on September 15, 2021 in Richardson, Texas at the age of 73. He was born on April 12, 1948 to Marvin Joseph Hamm, Sr., and Mary Goodson Hamm, in Jacksonville, Florida. He graduated from high school in Millington Tennessee, class of 1966, also receiving his appointment to the U.S. Naval Academy that same year. Upon graduation in 1970, he reported for flight training in Pensacola, Florida where he began his love of flying. He received his wings in 1972 in Beeville, Texas, flying the F-9 Cougar. He immediately reported to Lemoore, CA for A-7 Corsair training, then was deployed for two years with squadron VA-56 on the carrier USS Midway. The ship's homeport was Yokosuka, Japan, where his daughter Louisa was also born. Marv completed over 100 carrier landings. His last active duty was as an A-4 flight instructor in Beeville, Texas. Marv's flight students held him in high regard writing from the fleet in appreciation of his teaching and piloting skills.
Marv left the Navy in 1977, and worked for Honeywell controls as a pneumatic engineer in Austin, Texas. He joined the A-7 Naval Reserve squadron in New Orleans, ultimately retiring as a Commander after 20 years of service. He was hired to fly for American Airlines in 1979, moving to Richardson, Texas, and retired in 2012 as a 757-767 pilot. Still enjoying all things aviation, Marv worked eight years as an FAA inspector until retiring in August 2021.
His love of flying was only surpassed by his love of family. He scheduled his flight time off to see his daughter Louisa's soccer games, piano and voice recitals, and was a proud father. He loved his entire family immensely. Marv also became interested in Hamm family genealogy, built a genealogy website, and helped plan and host Hamm family reunions in Selma, Alabama.
Marvin married Margaret Robertson on September 15, 2002 in Algodones, New Mexico. She survives him and lives in Richardson, Texas. He is also survived by his mother, Mary Goodson Hamm of Memphis, Tennessee; daughter, Louisa Clary of Hendersonville, Tennessee; daughter, Lori Snyder and Ron Blumka of Plano, Texas; son, Barton Robertson of Kansas City, Missouri; sister Rosalyn Jenkins and husband John of Memphis, Tennessee; sister, Sharon Sickles and husband Carroll of Gadsden, Alabama; sister, Darleen Bercovich of San Leandro, California, brother Paul Hamm and wife Sharon of Prattville, Alabama; and grandchildren, John Snyder, Zachary Clary and Amelia Clary.
Marvin is preceded in death by his father, Marvin Joseph Hamm, Sr., and his brother, Harold Hamm.
A celebration of Marv's life will be held at 2:00 p.m., Saturday, September 25, 2021 at Turrentine-Jackson- Morrow Funeral Home in Allen, Texas. The service will also be live streamed at TJMfuneral.com on Marv's obituary page by clicking on the following link: https://celebrationoflife.tv/blog/marvin-joseph-hamm-jr. After the service, the recorded live stream will be available for viewing at the same link location. In lieu of flowers the family requests memorials to pancan.org for pancreatic cancer research.
Updated: September 30, 2021
Curator: Ed Moore