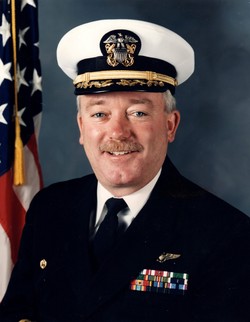 Capt. Michael Alfred Cosgrove, USN (Ret), "Cos", 65, died August 8, 2013 at the Specialty Hospital of Washington in D.C. Born April 10, 1948 in Madrid, Spain, he was the son of Alfred Kevin Cosgrove of Chicopee, MA and the late Irene Beatrice (Roulier) Cosgrove.
Cos graduated from the U.S. Naval Academy, Annapolis, MD in 1970. He married his wife of nearly 42 years, Rhea, on September 18, 1971 at the Westover Air Force Base in MA. He attended Post Graduate Naval School in Monterey, CA in 1978; was a member of the 1980 U.S. Naval Test Pilot School class in Patuxent River, MD; and a graduate of the Naval War College in 1984 in Newport, RI.
During his naval career, he flew more than 4,000 hours in 70 different types of aircraft and supported multiple deployments at sea. He participated in the evacuation of Americans from South Vietnam in 1975 and on a later deployment was credited with two successful rescues in the western Pacific.
He served as the Vice President of the Patuxent River Council of the Navy League of the United States. During his past time, he enjoyed attending Naval Academy football games with his fellow alumni. He also enjoyed spending time at his ski home in West Virginia and taking annual beach trips to Ocean City, MD with his family.
In addition to his father, Cos is survived by his devoted wife, Rhea Cosgrove of Lexington Park, MD; his sons Michael Cosgrove of Lexington Park, MD; Liam Cosgrove (Jamie) of Callaway, MD; and Joe Cosgrove (Janna) of Denver, CO; his brother Dan Cosgrove (Marcia) of Port Matilda, PA; and sister Terri Strandburg (John) of Wilbra-ham, MA; grandchildren Holden Garrison, Andrew Cosgrove, Ethan Cosgrove and Emma Cosgrove; niece Katie Strandburg and nephew Kevin Cosgrove.
In addition to his mother, he was pre-deceased by a brother, the late Pat Cosgrove. A Memorial Mass will be held on August 23, 2013, 11:00 A.M. at St. Cecilia Catholic Church, Mattapony Road in St. Mary's City, MD followed by a reception at the Flight Deck Lounge at NAS Patuxent River. Father Scott Woods will officiate the mass.
Interment will follow at a later date in Arlington National Cemetery, Arlington, VA. Memorial contributions may be directed to the Wounded Warrior Project, P.O. Box 758517, Topeka, KS 66675 or the Naval Academy Athletic Association, c/o Business Office, 566 Brownson Rd., Annapolis, MD 21402 (on memo line: Navy Heavy Weight Crew Program, Memory of M.A. Cosgrove '70).
Updated: September 14, 2018
Curator: Ed Moore