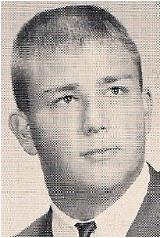 Mike Fryer died March 12, 1996, in Clinton County, Indiana, at age 47, from complications from diabetes.
He was a 1966 graduate of Freeport High School, Freeport, Illinois where he received an appointment to the U.S. Naval Academy. In 1971 he graduated from Southern Illinois University with a Bachelor of Science degree in communications. He was a production analyst at Federal Mogul, a company that makes aftermarket automotive products.
Mike served in the Navy Reserves.
Mike married Linda A. Dubley on August 26, 1972. They moved from Rochelle, Illinois, to Frankfort, Indiana, in 1978. He was survived by his wife, Linda, and their daughter, Katie.
Updated: September 11, 2018
Curator: Ed Moore