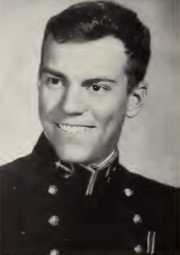 Retired United States Navy Reserve Commander, Michael Fred Martino, 69, of Severna Park, Md., born February 20, 1948 in Belleville, Ill., passed away Friday, August 18, 2017 in Severna Park, Md.
Michael graduated from Althoff Catholic High School, the United States Naval Academy Class of 1970 (17th Company) and obtained his Master of Science degree at Princeton and West Florida.
He was preceded in death by his mother, Helen Martino and stepbrother, Gary Wild.
Surviving Michael are his sisters Monica, Marna and Madelaine; his children, CDR Christopher Martino and Laura, Ms. Kate Martino and Dr. Elizabeth Martino; as well as his grandchildren, Caisey, Augustus and Francesca.
In lieu of flowers send memorials to Wounded Warriors.
Services: His wishes were to be cremated and his Urn placed in the Mausoleum at the Naval Academy in Maryland.
Updated: August 20, 2018
Curator: Ed Moore