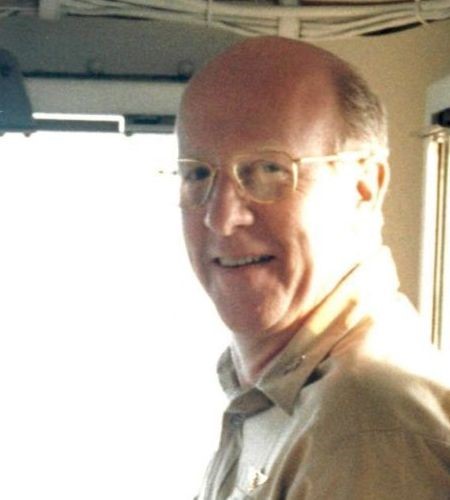 It is my sad duty to report that Golden Eagle VADM Mike Malone, USN (Ret) made his Last Take Off on 20 June 2019. Mike was born in Brooklyn, New York, and grew up in Farmingdale eventually attending Chaminade High School, an all-boys prep school in Mineola, New York. Mike met his wife-to-be Janet Freer during their grade school days, and they were married upon his graduation from the United States Naval Academy in 1970.
Ensign Malone commenced flight training immediately and received his "Wings of Gold" in March 1972. His first squadron tour was a "must pump" input to VA-97 flying A-7 Corsairs in USS Enterprise (CVN-65) as the Vietnam war was ending in 1973. After completing his tour in VA-97, Mike returned to the Naval Academy in 1975 as a Company Officer and served there until 1978. He was then selected as Aide and Flag Lieutenant for Golden Eagle RADM Bill Gureck at Commander Carrier Group Seven, where he served for two years.
Arriving next at VA-174, NAS Cecil Field, FL, to serve as an instructor pilot and weapons instructor in the A-7 RAG, Mike's tour was cut short, and he was assigned to VA-12 in 1981 as Operations Officer to help right a sinking squadron. He also served as Maintenance Officer and deployed in USS Dwight D. Eisenhower (CVN-69) to the Mediterranean operating area. In 1984 he was assigned as a student at the National War College in Washington, DC, and then arrived at VFA-136 (via the F/A-18 replacement squadron), NAS Lemoore, CA. He was next assigned to NAS Cecil Field, FL, as the first XO and then Commanding Officer of the squadron, flying the F/A-18 and deploying in USS Coral Sea (CV-43) from 1985 to 1989.
Mike was then sent to Navy Nuclear Power Training as prospective Executive Officer of USS Abraham Lincoln (CVN-72), in Alameda, CA, and served as XO until 1992. He left Lincoln and became Commanding officer of USS Kansas City (AOR-3) also in Alameda until 1994. The Malone's then returned to the east coast, and Mike served a short tour as Executive Assistant to the CINC on the CINCLANTFLT Staff.
Following his tour as EA to CINCLANTFLT, Mike took Command of USS Enterprise (CVN-65) where he served from 1996 to 1997. Selected to Flag rank, he was assigned as the Deputy J-5 at United States European Command in Stuttgart, Germany. He also served as Deputy Commander, Southern Watch (Iraq no-fly zone) during this tour. Upon completion of his tour in Stuttgart, he was assigned as Commander, Carrier Group Eight embarked in USS Theodore Roosevelt (CVN-71) from 1999 until 2001.
Mike was then assigned as Commander, Naval Air Force US Atlantic Fleet and then moved west to Commander, Naval Air Force US Pacific Fleet and became the second Commander, Naval Air Forces as the Air Boss. It was during these tours as Type Commander that Mike Malone became involved in an effort to assist Naval Aviation to operate in a more efficient and cost-effective manner, and the "Naval Aviation Enterprise" was established.
With COMNAVAIRFORCES as lead, the NAE also includes the Naval Air Systems Command and the Director of Air Warfare in the Office of the Chief of Naval Operations. Mike retired from active service in August 2004.
During his 34 years of active service, Mike accumulated 3900 flight hours and 746 carrier arrested landings. His awards include the Navy Distinguished Service Medal, 5 Legion of Merit awards, the Meritorious Service Medal, and numerous unit and campaign awards and ribbons.
After retirement, Mike joined Skarven Enterprises and served as President, guiding this relatively small company that designed and developed analytic approaches and technology applications that allowed real-time streaming, data fusion, and analysis for government, financial services auditing and industry competitive intelligence. Unprecedented growth culminated in the company being acquired by The Boeing Company in 2008. He remained president of the company as part of the acquisition agreement until 2011. Mike also served on several boards for a variety of companies and was part of an effort, along with several other retired flag officers, to assist Naval Aviation in solving readiness and maintenance issues primarily brought about by a lack of adequate funding. He was exceptionally well qualified to lead this effort as a result of his previous involvement in the NAE.
Mike was also an accomplished chef, as he and Janet delighted in hosting friends in their home, which always involved great food and great company. He loved to play golf, and most of all, he loved to travel with his wife and grandkids all over our great country in their RV.
VADM Mike Malone is survived by his wife Janet, four children; Shelia (husband Mark Stevens, a recently retired Navy Captain and naval aviator), Casey (husband Dan Johnston), Mary (husband JP Hess), and son Patrick Malone (wife Veronica) as well as six grandchildren; Madeline (USNA '17, and husband David), Zachary, Colin, Cody, Charlotte and Kevin.
Mike Malone was a very special person. Bright, principled, fiercely loyal and a loving family man with a seemingly permanent mischievous smile on his face. He impacted many, many people during his sadly shortened life. All of those people are better off, as is Naval Aviation.
He will be missed.
In sadness,
John Mazach
Mike Malone's remains will be buried at sea in the near future. A celebration of life is being planned for late July or early August of this year in the Annapolis area. Dates will be provided when they are available.
Mike was a passionate advocate of active duty service members and their dependents. Donations may be made in his memory to Wings Over America Scholarship Foundation (WOASF) for the VADM Michael and Janet Malone Scholarship. Donations can be mailed to 770 Lynnhaven Parkway, Virginia Beach, VA 23452 or made online at Wings Over America
He also believed his high school, Chaminade, establishes a foundation of achievement, spirituality, and leadership in their students; donations may be made in his memory to Chaminade Torch Fund. Donations can be mailed to 340 Jackson Ave., Mineola, NY 11501-2441 or made online at Chaminade High School Torch Fund.
Updated: Jume 26, 2019
Curator: Ed Moore