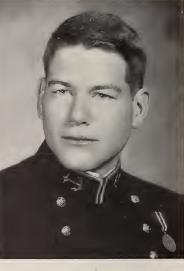 Norman Albert "Butch" Koneman III was born on 14 Nov 1946 in Galveston, TX. His parents were Norman Albert Koneman II and Norma Jean Wheeler Koneman. Butch was a 1965 honor graduate of La Marque High School. Upon graduation he entered the University of Texas, Austin and had completed his freshman year, when he received an appointment to the United States Naval Academy in June, 1966.
While attending the Academy, Butch was well known for his overwhelming pride in anything that even vaguely related to the "Lone Star State.'' He was an outstanding student and dedicated athlete, and frequented the Dean's and Superintendent's Lists all four years at Navy. He had a strong desire to continue his education in Postgraduate School.
Upon graduation on June 3, 1970, Butch was commissioned an Ensign in the Navy. He served on two surface ships, during the Vietnam conflict, as the Damage Control Assistant. Butch attained the rank of Lieutenant, prior to resigning his commission in 1975. He returned to Texas, and eventually became self employed as a technical writer, specializing in German translation.
Butch passed away at his residence on January 13, 1996 (aged 49) in Galveston County, TX, having suffered through a lengthy illness. Visitation was held from 6 to 8 PM on January 15 at the James Crowder Funeral Home in La Marque. Funeral Services were held at 10:00 AM January 16, 1996 at the First United Methodist Church, La Marque. Interment was at the Hollywood Cemetery, Houston, TX.
Butch was survived by his parents Norman and Norma Jean Koneman of La Marque; brothers, George W. Koneman of La Marque, Kerry M. Koneman and his wife Toni of Texas City; sister, Suzanne Koneman of Austin; three nieces and three nephews. Pall bearers were George W. Koneman, Kerry M. Koneman, Toni Koneman, Suzanne Koneman, Harold Choate and Rusty Kane.
Memorials may be made to the First United Methodist Church of La Marque or the Hospice of Galveston County.
Updated: November 21, 2018
Curator: Ed Moore