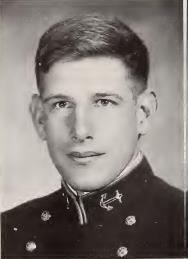 Patrick James Maloney was born and raised in Norfolk, VA, such that he was naturally drawn to the call of the Naval Service. He was recruited by the Naval Academy to play center on the football team and he wanted to have a satisfying career in Navy Air. Academics gave "Chief" a brief scare Plebe year, but he quickly recovered despite complaints to the contrary. He permanently ended his football career to give himself more time for academics, which he felt was necessary to graduate. He had to give up his dreams of Navy Air due to a scratched cornea he received during a pick-up squash match.
Pat was a "quiet giant", being the most stoic person in the room until something struck him as important, then he spoke up loudly and eloquently. If Pat wasn't "dragging" or buying fourteen dollar knives, he could usually be found fast asleep in the grasp of the rack monster. When drug out of the sack though, he could always be counted on to do his best in sports, be it intramurals or a "pick-up" game. Pat's easygoing nature often made him a favorite target for good natured ribbing, but he could still always be counted on to lend a helping hand wherever needed.
Following graduation, Pat served honorably for 20 years in the surface Navy. He married Anne Schutte and they raised two daughters and a son. Pat became a financial advisor when he retired from active duty in 1990. A couple of years later, Pat was diagnosed with cancer. He fought the good fight with all his strength, but unfortunately Pat passed away on Veterans Day (November11), 1993 in a Portsmouth, VA hospital. He was 43 years old.
Pat was a member of Sacred Heart Catholic Church. A Mass of Christian Burial was conducted at 1 p.m. November 13, 1993 in Sacred Heart Catholic Church by the Rev. John Dorgan. A Christian wake service was held in H.D. Oliver Funeral Apartments, Norfolk, VA on 12 November. Patrick James Maloney was laid to rest at Forest Lawn Cemetery, Norfolk, VA following his funeral mass.
Survivors include his wife, Anne Schutte Maloney; two daughters, Colleen E. Maloney and Katherine A. Maloney; one son, Christopher P. Maloney; and his parents, James V. and Rose Mary Kern Maloney, all of Norfolk; one sister, Kathleen Maloney George of Richmond; and three brothers, Timothy A. Maloney of Richmond, Stephen V. Maloney of Lafayette, La., and Bernard C. Maloney of Grenoble, France.
Pat is remembered as a good husband and father, a decent runner, a sports lover who would "watch anything with a ball in it, and an Irishman who enjoyed a good beer on occasion. He is missed by everyone whose life he touched.
Updated: November 11, 2018
Curator: Ed Moore