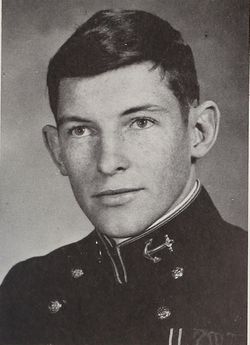 Paul Vernon Duncan was the son of Argel L. Duncan and Gladys O. Kettle Duncan of Arvada, CO. He was a 1966 graduate of Arvada West High School where he participated in football, wrestling, the Key Club and other school activities. He applied for and received an appointment to the Naval Academy in 1966.
At the Academy, Paul was known as "Duncs" to his company mates. Although he grew up in the shadow of the Air Force Academy, he decided he liked his air salty, not thin, so he migrated east to Annapolis, MD. Paul was a scholar-athlete that earned Academic stars his Plebe year, which was very impressive. He continued to hover near the Superintendent's List for all four years. Fall seasons saw Paul playing defensive back for the Varsity 150-pound football team, and his winters found him on the habitually successful 36th Company Fieldball team. Duncs was an easygoing type once off the athletic field, and he could always be counted on to inject some humor into any serious situation. His one true love was the Mountains of Colorado, and his girlfriends' pictures had to share his tack-board with colorful Colorado Rocky Mountain scenery.
Upon graduation, Paul selected to become a Marine Aviator, and headed to Pensacola following The Basic School in Quantico, VA. Paul earned his wings of gold and went on to become a Radar Intercept Officer for the F-4 Phantom II jet fighter. Paul later shifted to the RF-4B photo-reconnaissance version and in 1974 was assigned to Marine Composite Squadron ONE (VCMJ-1), Detachment 101. In April 1974, Detachment 101 was assigned to the USS Midway (CV-41) which was deployed to the Western Pacific, where he served as a RIO on assigned missions.
On November 3, 1974, Paul's RF-4B aircraft was attempting to land on the USS Midway when it stalled and flamed out about 90 km south-west of Cubi Point, Philippines. The pilot, 1st LT P.V. Reno, ejected and was rescued. Paul however failed to eject and was instantly killed when the RF-4B crashed into the Pacific Ocean. Paul was on the Captain's promotion list at the time of his death. His picture is currently displayed on the USS Midway Museum Wall of Gratitude in San Diego, CA. Paul's sacrifice is also honored in Memorial Hall at the Naval Academy.
Paul's interment was at Arlington National Cemetery with a memorial also being placed in the Arvada Cemetery in Jefferson County, CO (now with his parents). Memorial Services were held both at the Arvada United Methodist Church and the Arlington National Cemetery. Paul was survived by his parents and brother Darren A. Duncan at the time of his death.
Updated: April 05, 2019
Curator: Ed Moore