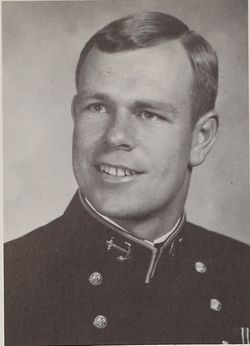 After a year at Long Beach City College, Rick came to USNA and quickly adapted to both academic and military life as his 3.5 and three stripes indicate. An Electrical Engineering major, he should have been given a professorship for the number of hours of help gave to classmates. Beginning second semester of second class year, the exponential decay of his QPR was exceeded only by that of his receding hairline. The former he owes to that portable SONY, the latter to hours of batting practice behind the plate. Nothing will be said here about his bat, as that will "write its own story." A hard worker who always gave and asked for one-hundred percent, he will carry that attitude into the fleet and become one of Naval Aviation's finest officers.
Following graduation Rick went to Naval Postgraduate School in Monterey, in the Electrical Engineering Master's program. In February 1971, Rick was married and moved with his bride to Pacific Grove. In the summer of 1971, Rick began flight school, receiving his wings in 1972. His first assignment was to HSL-33, Naval Air Station Imperial Beach, California. In 1975 Rick went to Patuxent River NAS to VX-1. In April 1977 Rick and his wife joyfully welcomed their son, Benjamin Vance Creighton, into the world and in June, Rick was lost in a helicopter accident.
A routine night training mission ended in tragedy for three Navy flyers who were killed when their helicopter crashed during a landing attempt. A board of Inquiry began an Investigation at the Patuxent Naval Air Test Center to determine the cause. The victims were identified as pilot Lt. Walter S. Howdyshell, 29, of New Texington, Ohio; co-pilot Lt. Richard A. Creighton, 30, of Los Alamitos, Calif.; and Petty Officer 2nd Class Robert M. Emery Jr. 20, of Williams, Ore. The men were participating in a night training mission to qualify or upgrade crew members' night flight status. "The helicopter was in a landing phase when it crashed on the runway," a Navy spokesman said. "It had been up for almost two hours before the accident occurred. There was a fire when the fuel ignited after the impact, which is normal."
Rick's son Ben, like his father, graduated from Wilson High School in Long Beach as both a scholar and athlete. Ben attended Yale University and graduated with both Bachelor's and Master's degrees in political science in 1999. Ben was recruited by Bain Consulting and started his career in their Los Angeles office. Subsequently, he has worked for Universal Music Group, Universal Studios and is now general manager of Stems & Bunches, a Teleflora company. In 2003, Ben married Eleanor Hsu. Ellie is a Director of International Marketing for Warner Brothers.
Updated: October 26, 2018
Curator: Ed Moore