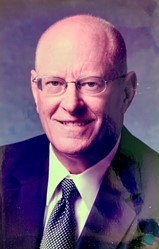 Richard M. "Dick" Teater died Saturday, 13th of February at his home in Sun Lakes, AZ. He was 72 years old. He is survived by his wife, Pranee "Dang" Teater, of 48 years; Sons Thomas Nigel Teater and Austin Richard Teater; Sister Susan Martin, and Brother Paul Teater.
Dick was born to Max and Joyce Teater in Grinnell, IA and was raised in Des Moines, IA, graduating from Lincoln High School. He achieved Eagle Scout, swam on the high school Swim Team, and was appointed to the US Naval Academy. He graduated with a BS (Mechanical Engineering), was commissioned an Ensign in the US Navy Civil Engineer Corps, and after assignments in the Navy Seabees, attended Purdue University where he received his MS (Construction Management). He then served assignments in Public Works and Force Civil Engineering for the Navy in San Diego, CA.
After leaving the Navy, he pursued a career in international engineering and construction working for Holmes and Narver, Inc. and Fluor Corporation, rising to Group President. His career took him to seven continents. Upon leaving his corporate career, he purchased Big J Enterprises (a mechanical contractor) in Albuquerque, NM where he continued ownership until retirement in 2013. During his career, he served on the Purdue Engineering Visitors Council and the American Society of Mechanical Engineers International Advisory Board. While business owner in Albuquerque, he served on the Boards of the Chamber of Commerce, Association of Commerce and Industry, Heart Association, United Way, Bank of Albuquerque, Associated Builders and Contractors, Association of General Contractors and Presbyterian Healthcare System.
After five years as snowbirds, he and Dang settled in Sun Lakes, AZ. His interests included riding his motorcycle, fishing, BBQ and playing golf.
Contacts:
[email protected]
Updated: Feruary 20, 2021
Curator: Ed Moore