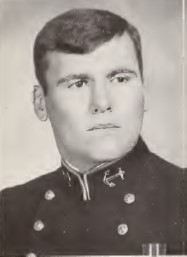 Captain Robert Norman Burton Jr., SC, USN (Ret.), 65, passed away on May 4, 2014. Memorial services were held at 10 a.m. on Friday, May 9 at Aldersgate Church, 1301 Collingwood Road, Alexandria, VA 22308. Interment at the U.S. Naval Academy will be held Wednesday, May 28 at 1300.
CAPT Burton completed 24 years of active service and retired in February 1995 after serving at the Defense Logistics Agency, Cameron Station, Alexandria, VA.
He received his Bachelor's Degree from the U.S. Naval Academy in 1970 and his Master's Degree from the Naval Postgraduate School.
Duty stations also included: Program Executive Office, Cruise Missiles Project and Unmanned Aerial Vehicles Joint Project, Arlington, VA; USS IWO JIMA (LPH2); Naval Air Station, Brunswick, ME; Commander, U.S. Naval Forces, Korea, Seoul; Naval Aviation Supply Office, Philadelphia, PA; U.S. Naval Academy, Annapolis, MD; Commander in Chief, U.S. Pacific Command, Camp H. M. Smith, HI; Fleet Assistance Group, Pacific, Pearl Detachment; USS HEPBURN (FF1055); and USS LEADER (MSO490).
In lieu of flowers, memorial contributions can be made in his name to the Navy Supply Corps Foundation Scholarship Fund.
Updated: September 14, 2018
Curator: Ed Moore