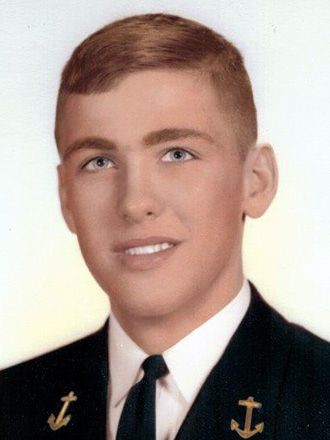 Bob Kirk passed away, unexpectedly, at home in Brewster, WA, on Thursday evening, February 28, 2019. Robert Wayne Kirk was born in Wenatchee to Warren C. Kirk, Jr. and Dorothy Kline on May 14, 1948. His father, a Navy pilot in the Pacific during WWII, had a major influence on Bob. He graduated from Brewster High School in 1966, where he loved football, basketball, and track. He had success in the javelin, going to the state meet.
After graduation, he was appointed to the U.S. Naval Academy. He continued his sports pursuits at the Naval Academy with some success in the javelin. He graduated in the summer of 1970, and was assigned to Long Beach, CA, where he married his college girlfriend, Jean Otter, from the Annapolis, MD, area.
In the mid-1970's, as the Vietnam conflict escalated, Bob was assigned as an officer on various vessels stationed at Pearl Harbor. In 1979, he was an officer on the U.S.S. Benjamin Stoddert, which took a dependent cruise from Oahu to Hawaii, and return for Mother's Day. Jean, his wife; Elsie Kirk, his grandmother; Dorothy Kline, his mother; and Warren Kirk III, his brother, and wife, Helen, and son, Chip, all joined him on this cruise to Hilo. A strong storm came on the island the night before they were to return to Pearl Harbor, and Robert was asked by the Commander to take the deck and conn. The Commander at Pearl Harbor had recently honored him by nominating him as the best shiphandler in the Squadron at Pearl Harbor! Bob was elevated to the rank of Lt. Commander while he was at Pearl Harbor. Robert deployed several times in the Pacific which caused a strain on his marriage, which ended in a divorce when he was reassigned to the U.S .Navy War College in Newport, RI, in the early 1980's. They never had any children.
After several years at the War College, Robert returned to an assignment in Hawaii at Pearl Harbor. In the early 1990's Bob retired as a Lieutenant Commander from the U.S. Navy and soon returned to Washington State, and purchased a home in Lynnwood, WA. Bob never had much of a love for traveling after he retired and always remained close to the Brewster area. Bob made an exception, and did fly to his brother's graduation from United Theological Seminary in Dayton, OH, in 2006.
As his mom's, Dorothy Kline, health (dementia) continued to decline, Bob's first priority was to take care of her. When Dorothy was moved to Wenatchee, WA, Bob virtually went with her, living with her in her two-bedroom apartment. When Dorothy continued to decline and needed full-time care she was moved to Harmony House in Brewster, and Bob moved to Brewster, virtually visiting her every day he wasn't in Seattle, WA, at the Veteran's Hospital for an appointment. Bob kept close contact with several close friends in the Brewster area.
Bob was predeceased by his father; and is survived by his mother, Dorothy Kline, who is living in Harmony House in Brewster; his brother, Warren "Chip" and wife, Helen, living in Southern Indiana; his nephews: Warren Charles, IV and his family living in Gardnerville, NV; and Ryan Derek and his family, living in Lawrenceburg, IN. He has three great-nephews and a great-niece. Years ago, he loved his motor cycle and he still owned the first Ford Mustang sold in Brewster in 1964.
Visitation for Bob will be at Barnes Chapel, 510 W. Indian Ave., Brewster, WA, on Thursday evening, March 7, 2019, from 5:00-8:00 p.m. There will also be visitation on Friday, March 8, 2019, from 9:00 a.m. until 10:45 a.m. The Memorial Service is planned for Friday, March 8, 2019, at 11:00 a.m. at Barnes Chapel in Brewster, WA, with a graveside service immediately following at Locust Grove Cemetery. Gifts in memory can be donated to the Brewster American Legion for a scholarship fund in memory of both Warren Charles Kirk, Jr. and Robert Wayne Kirk. Please leave any thoughts and memories for the family at Barnes Chapel Services are entrusted to Barnes Chapel of Brewster, WA
Updated: March 07, 2019
Curator: Ed Moore