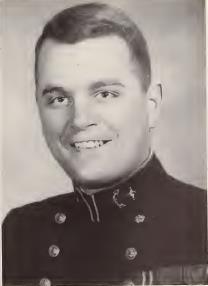 Ronald Jay Murray was born into a career Air Force family on November 27, 1948. He received his appointment to the Naval Academy in 1966 from San Antonio, TX. While at the Academy, Ron was very active in many Christian activities to include NACA, OCE and numerous Company Bible studies. Ron participated in battalion fencing, company fieldball, and Plebe indoctrination. Ron also sang in the Antiphonal Choir, Chapel Choir, and the passageway.
Upon graduation and commissioning, Ron served in the USS Richard E. Kraus (DD-849) for two years prior to reporting to the USS Forrestal (CV-59) as the point defense officer. In 1975 Ron received orders to join the faculty at the Texas Maritime Academy in Galveston, TX. He remained there until 1977, when he left the Navy to attend seminary school. One year later, he began his business career that eventually led him to the teaching profession, with the Garland Independent School District in 1986. He returned to business world in 1996, when he joined Rash and Associates in Garland, TX.
Ron's Christian faith sustained him throughout his life as he faced the its challenges and opportunities, including his final battle with disease, that ultimately took his life. Throughout it all, his unfailing love and reliance on God was always apparent. Ron passed away on August 22, 2001 in Wills Point, TX, after a year and a half battle against cancer. He is survived by his wife, Julie; daughter, Christi; son, Jonathon; and brother, David.
Updated: November 10, 2018
Curator: Ed Moore