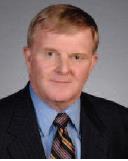 Lieutenant Colonel Terrence C. Morgan, USMC (Ret.), passed away at his home in Vienna, VA, on 29 July 2017. He was 68 years old.
Born and raised in Bethel, CT, "Terry" was the son of Charles and Mary Morgan. Terry entered the U.S. Naval Academy upon graduation from Immaculate High School. At Annapolis, he played 150lb football as a member of 18th Company. He joined the Marine Corps after graduation for a 24-year military career.
Terry served in artillery from Okinawa to Oklahoma, California to England, and beyond. He was a member of the U.N. Peacekeeping Force in Lebanon in 1984-1985, before becoming a battalion commander in Camp Lejeune, NC. He then graduated from the U.S. Army War College in 1989, served with the Fleet Marine Forces Europe in Eastcote, England, before returning to Headquarters Marine Corps in Arlington, VA, and retiring as a lieutenant colonel in 1994.
He married his wife, Sheila, on 3 July 1974. They were neighbors as children growing up in Connecticut and their families remained friends when Sheila's moved to New Jersey at age 12. They reconnected in college as Sheila attended Rosemont College nearby in Philadelphia.
After retiring, Terry had a successful career with U.S. Robotics, 3Com and eventually, Cisco Systems, where he reached the level of director in the Global Defense, Space & Security Group, leaving in 2010. He served as a chairman of the Network Centric Operations Industry Consortium and founding chairman of the board of the Diplomacy Matters Institute, ran a successful independent consultancy and advised several early stage startups, remaining heavily involved even as he battled cancer in his final year.
Terry's hobbies included cooking, ironwork, woodworking and undertaking various projects around the house.
Terry is survived by his wife of 43 years, Sheila; daughter, Melissa; son, Chris; and grandchildren, Jocelyn and Avery.
An informal service was held in Vienna, VA, with family and friends and his ashes were placed in the Naval Academy Columbarium.
Updated: August 20, 2018
Curator: Ed Moore