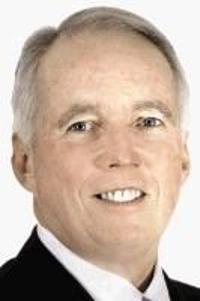 Thomas Llewellyn Bricken died peacefully at his Fredericksburg , VA home on Tuesday, March 6, 2012, after a courageous two-year battle with ALS.
Tom was born March 21, 1948, in Luverne, AL, but moved to Mobile, AL, as a child. He graduated from the United States Naval Academy in 1970, and served as an active-duty naval aviator, and then as a pilot in the Naval Reserves.
Tom received his J.D. from the University of Richmond and practiced law for more than 30 years in Fredericksburg VA, heading the local office of Sands Anderson PC. He was a stalwart leader in the community, serving on the board of directors of the Virginia State Chamber of Commerce and as president of the Fredericksburg Chamber of Commerce, president of the Fredericksburg Rotary Club, and legal counsel for the Stafford Regional Airport Commission, leading the charge for the Stafford Airport.
He was preceded in death by his parents, Llewellyn Powell and Beverley Colomb Bricken, and brother Buford Powell Bricken, all of Mobile.
He is survived by his wife of 40 years, Patricia Synowiec Bricken; his daughters, Mary Knox Bricken Flynt (and William) of Boston, Mass., and Rebecca Bricken Segal (and Geoffrey) of Potomac Falls; his grandchildren, Grant Colomb Segal and Reese Powell Segal; his sisters, Mary Knox Bricken and Marion Bricken Nichols (and Robert) of Birmingham, Ala.; brother Benjamin Rush Bricken (and Belinda) of Tullahoma, Tenn.; and many nieces and nephews.
A celebration of his life will be held at the Princess Anne Building, 904 Princess Anne St. Fredericksburg, from 6 to 8 p.m. Friday, March 9. A Mass will be held at 11 a.m. Monday, March 12, at St. Mary Catholic Church, with a reception to follow.
In lieu of flowers, donations may be made to the ALS Association, DC/MD/VA Chapter, 7507 Standish Place, Rockville, Md. 20855.
Updated: September 12, 2018
Curator: Ed Moore