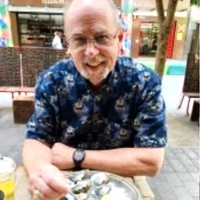 Harold "Wally" Boyette Wallace, beloved husband, father, brother, and Papa, from Sharpsburg, Georgia passed away on February 5, 2022 from cancer.
Wally leaves behind his forever bride, Marilyn Wallace; daughter, Jennifer Findley (Don); son, Matthew Wallace (Rebecca); sisters, Janice Lewis (Wayne) and Martha Rogerson (James); 3 grandchildren, Elianna, William, and Aaron; and several grand-pets.
Wally was born on September 13, 1948 to F. Ray and Melva Wallace in Raleigh, North Carolina. He married the love of his life, Marilyn Bess, on August 22, 1981. Wally graduated from the Naval Academy in 1970, and after serving in the Navy 8 year's active duty and more than a decade in reserve, he retired at the rank of Captain. He flew for Delta Airlines for 30 years, having the privilege of returning after his initial retirement. After his final retirement at the age of 65, Wally's passion for flying led him to continue as an instructor, primarily in Cirrus airplanes.
He loved Jesus and spent much time and effort studying God's word and being active in leadership and volunteer roles at his church in Fayetteville and Beaufort. As an Eagle Scout, Scouting was very important to Wally, and he served in several roles throughout his Scouting career, earning various awards recognizing his efforts.
Funeral services will be held at 11:00 AM on Saturday, February 12, 2022 at Living Faith Fellowship, Fayetteville, with Reverend Chris Perkins officiating. The family will receive friends from 5:00 - 7:00 PM on Friday, February 11, 2022 at Mowell Funeral Home, Peachtree City. A graveside service will be held at 11:00 AM on Monday, February 14, 2022 at Beaufort National Cemetery in Beaufort, South Carolina. A celebration of life will be held from 4:00 – 6:00 PM on February 14, 2022 at The Tabby Place, Beaufort, South Carolina, https://www.beaufortinn.com/venues/tabby-place/.
In lieu of flowers, expressions of sympathy may take the form of donations to, Focus on the Family, https://www.focusonthefamily.com/; Samaritan's Purse, https://www.samaritanspurse.org/donation-items/where-most-needed/; or USNA Alumni Association and Foundation, https://www.usna.com/give.
Updated: February 10, 2022
Curator: Ed Moore