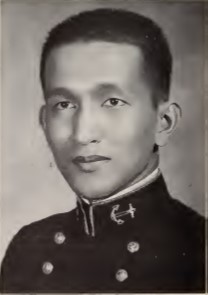 The following is provided by Rick McGooey (23rd Company):
"I assume most of you have received the news that our classmate, Roilo "Roy" Golez passed away this past Monday (11 June 2018). It was completely unexpected. Both John Stampelos and I were in communications with him just last week and all seemed fine.
Roy had an interview with a news reporter on Monday morning. He called the reporter and said he was not feeling well and canceled the meeting. Roy passed not long after from a heart attack. It was a shock to all of us, including Natty, Roy's wife, and his brother, Bong. There was no indication of a heart issue. Roy remained in top shape throughout his entire life.
I have been in touch with Bong and passed along the condolences of all of our classmates, especially his friends from the Naval Academy. He said he would pass them to Natty. I have sent emails and have called Natty but have not reached her. I have sent a Prayer Mass Card to Natty from all of us with our deep sympathy and condolences.
You can do a simple search on the Internet to read the extensive amount of news coverage in the Philippines about Roy and his death. He was extremely well regarded and his accomplishments are extensive. He has touched the lives of countless countryman and made a big difference. He was elected to their Congress 6 times, each time winning in a land slide vote. When I visited Roy he took me to his office where I met many people. He was greatly loved, respected and helped the people of Manila in many generous ways.
I rarely saw Roy in person or in any picture when he was not wearing a USNA (Naval Academy) hat or shirt. Even now when you see press releases of Roy, he was wearing USNA gear. His family Christmas Card picture found him in a dress shirt with the Academy logo on it. In the center of his office in Manila he had a Mess Hall chair from the Academy. The mess hall went through a renovation and Roy bought a couple of chairs and had them shipped to Manila. There was no one more proud of attending the Naval Academy than Roy. Even though his accomplishments were great, his schedule hectic and his influence extensive, he always had time for a call or an email to share some thoughts about the Navy and the Naval Academy, or to relive a memory about our Company or, of course, about boxing.
The details of his funeral are as follows provided by the Mayor of the province within Manila where Roy lived:"
Please be advised that the remains of former Congressman and National Security Adviser Jose Roilo S. Golez will be transferred to Rizal Premiere Chapel in La Funeraria Paz Sucat (Manila Memorial Park, Sucat, Parañaque City) on Thursday, June 14. Viewing will start at 2 p.m. Thursday until 10 a.m. Friday.
His remains will be brought back to the Heritage Memorial Park in Taguig, Metro Manila by Friday, June 15 at 11 a.m. until interment. Viewing will start at 2 p.m.
A mass will be held on Saturday, June 16 at 12 noon followed by interment.
Photographs of the funeral are provided below.



The picture above right is Roy's brother Bong, holding Roy's treasured USNA graduation portrait.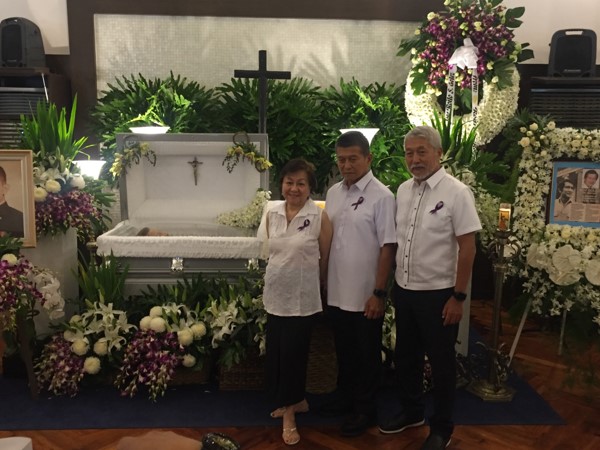 The picture above are Roy's three siblings his sister, brother Admiral Toto Golez and brother Bong (white hair).
Updated: June 25, 2018
Curator: Ed Moore