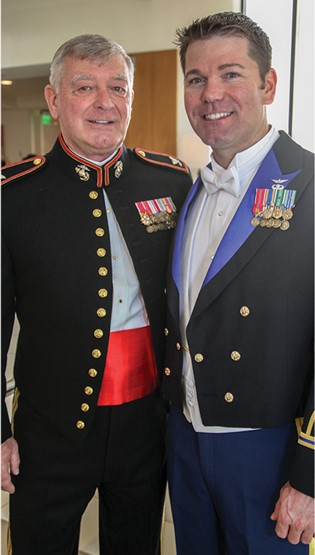 Lt. Col. Brian Supko is an active duty Army aviation officer and a graduate of the U.S. Military Academy at West Point, N.Y. He currently serves as a battalion commander at Fort Campbell, Ky. Prior to this assignment, Supko served at several installations, including Fort Rucker, Ala.; Germany; and Fort Bragg, N.C. His father, a graduate of the U.S. Naval Academy, Annapolis, Md., served more than 30 years as a Marine Corps officer.
How did your father's time in service affect your decision to join the military?
Supko: I was always impressed at the sense of family and camaraderie that I saw whenever I attended any military unit functions with him. Additionally, I always knew that while we weren't going to be rich, we were never going to be fiscally challenged as a family, which I always found admirable about the military.
Are there any distinct memories you have from growing up in a military family?
Supko: My father served in the military throughout my life until I was in college, when he retired.
I remember getting the opportunity to ride across the Sinai Desert in a jeep with my father when we were stationed in Israel, when I was 5 years old. That experience [was] one of the most unique opportunities afforded to me through his military career.
Another distinct memory I have is tied to his deployment to Kuwait and Iraq in support of Operation Desert Shield/Desert Storm. He left just prior to the first day of my freshman year in high school and was gone for almost the entirety of the school year. It was a terrifying nine months, having him gone while the entire war effort was broadcast over television. He returned home from this deployment prior to the end of the baseball season and was able to attend the last couple games. I remember the incredible excitement and pride I felt as he was able to see me play for the first time in my high school career.
What message would you give your children if they were interested in joining the service to follow the generations that came before them?
Supko: I have two sons, a 5- and a 3-year-old. The message I plan to convey to them - and my attitude toward any type of civil service - will be one of support and encouragement, but not one of expectation or requirement. Military service has been a part of my family for multiple generations, and it is certainly something I am proud of, but it is not something I plan to levy on my children as a requirement.
NOTE: The above is an extract from the MOAA June 2018 Magazine that covers only the Supko family.
Updated: January 07, 2019
Curator: Ed Moore